We pretty much got pounded last night. I'd say a good 12-18 inches of pure, fluffly, white snow has fallen and entrapped everything in sight. So I think it's safe to say that we're snowed in and probably not going anywhere for awhile (or at least until my husband wakes up and shovels-ha!).
Whenever the weather sucks, as is does now, I constantly find myself daydreaming about what my life would be like if I switched places with my friends who live in Georgia, Hawaii, and South Carolina. I wouldn't have to buy thick wool socks to wear everyday, wouldn't have to worry about the windchill, and I definitely wouldn't be dealing with a foot and a half of snow. Freezing cold snow.
Can you tell I hate the snow yet?
So anyways, when it snows, I dream about warm weather, sunshine, and sandals. And then I shop. Or, I browse Pinterest and get excited about what's already in my closet just waiting patiently to be worn (the latter is rare, but it still happens).
Here's what's on my "must have" list for warmer weather!
1. A neon lace skirt (I'd prefer shorts, but a skirt would work too).
I think this would look super adorable with a slouch gray tank and some gladiators, but I like how she dressed it up too. The greatest thing about this style is that it's totally versatile, and if you can find a version in shorts, they're even more so!
2. A geometric print shirt (paired with my hot pink maxi I already own).
Black, white, and hot pink will never go out of style, and I love how put together this looks. I snagged my hot pink maxi from Old Navy last summer for a cool $7. I was shocked, because I never find good deals (especially on things I've had my eye on for a long while), and if I do, they're never in my size. You should have seen the smile on my face when I grabbed it. I felt like I needed to hide it so no one would try to steal it from me. I'm that ridiculous, I swear.
3. Color-blocked sheer blouse.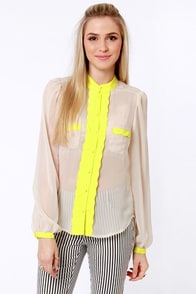 I love taupe and yellow together, and this top would look great with so many other pieces; floral skirts, rolled boyfriend jeans + heels, patterned slacks (yes, I said "slacks"), the list goes on. Color-blocking is still HOT, HOT, HOT, and I have a feeling this trend will be around for awhile, so snatch this up, and have fun pairing it with all the colorful pieces already in your closet!
4. A bikini that ISN'T a triangle top!
I'm a card carrying member of the IBTC (and if you don't know what that means, I'll let you look it up on your own), so swimsuit shopping usually makes me cry. Nothing ever fits, and stores rarely carry XS tops, so I'm usually left with the option of either buying something a little too big (and risking some serious exposure) or wearing a t-shirt to the beach. I'm slightly obsessed with this style of suit, and love how it gives a little extra coverage! The print is to die for as well, so I'm definitely digging this (and might have to order it right meow)!
5. Maxi Dresses
Forever 21- $32.80
|
Love Culture- $12.90
|
Forever 21- $29.80
I live in maxi dresses during the hottest summer months. I seriously cannot get enough of them, and I love how breezy and effortless they are. My current fave is the high-necked halter from Forever 21. I really love the color and pattern of it, but also the sheerness-which means it's lightweight and won't feel heavy when it's 85 degrees outside. The middle racerback dress will be super duper versatile and can be paired with anything from a jean vest to a fitted blazer!
6. Ornate necklaces
Forever 21- $20.80
|
Urbanog- $11.40
|
Lulu's- $21
These are amazeballs. They'd look absolutely fantastic paired with a white tank and a maxi skirt (or mini, whatever your style). The colors are perfect for spring and summer, and they really give off that vintage-y vibe (like you spent hours in an antique store searching for them)!
Welp, that's all I have for now. I need to go get ready to get our taxes done (what a FUN day!), but I think a nap may be in order first.
Enjoy the snow if you were
un
lucky enough to get dumped on by Nemo!