I was always thoroughly disappointed with the Home Goods store in Burnsville (which was a bummer since it was basically in my backyard), so when I came back to New York, I didn't have much hope for the TJ Maxx in Wtown.
*Before I continue, for those of you who aren't familiar with TJ Maxx or Home Goods (they're the same store basically), they're like a Marshall's or Ross. Name brands for less basically.*
Aaaanyways, I went there yesterday out of sheer boredom, and happened upon racks and racks of gorgeous clothes. They had a lot of pretty coats too, which means I'll have to go back and check out the selection when it comes time to select one.
I'm not sure if you're aware, but I have a serious love/hate relationship with crop tops. I just can't figure out how to make them look right on my body and kinda feel like I'm a little too old for them. With that being said, I DO own two (that happen to be from Ross and TJ Maxx), and while I was perusing the racks yesterday, I fell in love with two shirts only to realize that they happened to fall into the "top that has been cropped" category. I was bummed but decided to try them on regardless since I liked the way they looked on the hanger. Tried them on and...AHHHHHH (angels singing)! They're gorgeous! I think they're perfect for a laid back Fall look and can take me into the Winter months as well.
So are you ready to see some looks I've put together with my new tops? Are you super excited? :-D
Now keep in mind that this is all stuff from my closet, and I can guarantee you that I bought most of it for under $25...
Look #1: This one is definitely more casual and perfect for a day spent sipping apple cider and taking hayrides!
Sweater: Aphorism from TJ Maxx-ONLY $16.99!
Jeans: &Denim by H&M (they are a couple years old but an AWESOME gray denim)
Tank top (worn underneath sweater): Zenana Outfitters from TJ Maxx (I'm pretty sure I paid like $4.99 for this too)
Scarf: Charlotte Russe bought 2-3 years ago
Flats: Old Navy-seriously, BEST PLACE EVER to buy affordable and stylish (and super comfy once you wear 'em in) flats!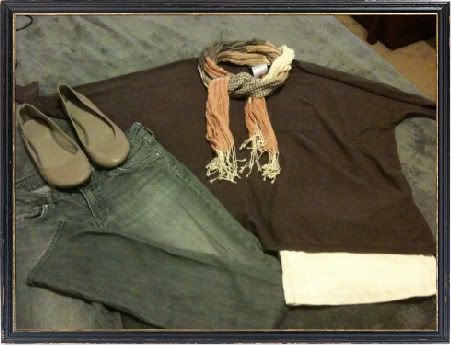 Simple and cute, right?
Look #2: This one is better suited for a girl's night out type of event. The shirt is definitely dressier because of it's "satiny" look (although it's polyester). Since it is a little sheer, pair it with a cami underneath.
Blouse: Mimi Chica from TJ Maxx-and only $12.99!
Jeans: Same as above
Booties: Dollhouse from Ross-and they were only $19.99-BTW...Ross has the most EPIC selection of shoes. It's seriously amazeballs.
Earrings: Forever 21-probably about $4.80 or so
Bracelets: Charlotte Russe-Christmas gift from my mom, but I think they were like $8.50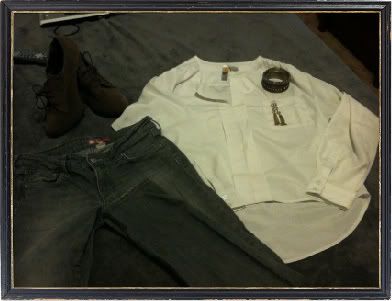 close up of the purrrty jewelry (I need to invest in a better camera, my iPhone doesn't do these looks justice)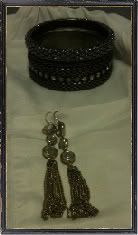 And since I just got back from H&M (ok, a couple days ago), I wanted to share just one more outfit that was styled totally by H&M apparel-well, besides the shoes and jewelry. And if my memory serves me correctly, the whole outfit (just the clothing) was under $75!
Look #3: I call this my date night/"Oh you want to go out NOW giving me only 10 minutes notice? And we're going to dinner at the new wine bar and then to the comedy club? Ok, give me a minute" look.
Tank top (which is a suuuper pretty rust color): H&M-$7-freaking-95! Shut the front door.
Blazer: H&M-$19.99 (I'm not joking)
Scarf: H&M-$12.95
Jeans: H&M-same as above
Earrings: Forever 21-probably about $4.80 again
Cuff-Charlotte Russe-$6.50 or so
Shoes: I bought those puppies at Target FOREVS ago and I think I got them on clearance for under $20.

So there you have it, I've expressed my undying love for TJ Maxx. And H&M, but I think we already had that covered. Remember that stores have BRAND NEW selections for Fall, so grab a friend and make a day of it.
Happy Shopping!
Muah!
Carrie