I am so obsessed with holiday fashion it's not even funny. I am so ridiculously excited for Christmas Eve because I am just dying to buy this metallic pencil skirt I've had my eye on at Forever 21. I think I'm going to pair it with some black tights, my Target mary-janes, and a cute blouse. Ahhh...I love the holidays-everything is so cozy! What do you usually wear for the holidays? Are you a dress-up type of gal or someone who lounges in Christmas pj's all day? I buy my husband, my son, and myself Christmas pj's each year and that's what we wear on Christmas morning to open presents (and obviously the night before). It's only the second year of doing it, but I love starting new family traditions. Plus, I kinda like to laugh at my husband wearing the ridiculously cheesy pants I pick out for him. I'm half tempted to buy those fleece onesie ones and make us all wear them. I'm not sure he'd be too happy with that though. ;)
Anyways, here's a few of my favorite things!
1. Sequined pants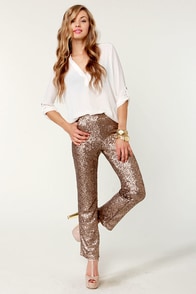 I'm breaking my $50 max because these pants are so worth it. I mean, we're talking about the perfect holiday outfit, and these have that written all over them. They're so festive and fun, and can be easily paired with a simple white top (or black with the silver/white ones). I love them with some bright shoes to add a pop of color-maybe hot pink with the Apricot Lane ones and navy blue with the gold ones? Hot. And I guarantee you'll be the belle of the ball.
I am in love with the mixed media trend that's going on. [P]leather is HUGE right now, and you can find it just about anywhere. When it's paired with polyester in this instance, it is so easy to wear. This dress just oozes sexiness, and with the inserts on the side, it will definitely slim your figure! I would pair this with some cage heels (I like
these
) and very minimal jewelry-think some spiked stud earrings and that's it. Let the dress take center stage.
I love how simple this long-sleeved dress is. It can easily be paired with tights and boots, or just heels for an understated, yet sexy vibe. This could even be worn as a tunic with jeans, if you're searching for something a little bit longer-I love long tees, it's hard to find something that will cover your behind!
I just bought this sweater at Old navy-it's going to be purrrrfect for Thanksgiving. Cozy, cute, and easy to slip on and off when the kitchen gets too hot (and yes, I am cooking this year, but my husband is on turkey duty). I'm also thinking of wearing it for family pictures this year, but still need to find something complementary for my husband and son to wear! I love how they've paired it with the teal jeans, but I plan on pairing it with some dark denim and a crisp white tank. Easy and classically preppy.
5. Lace-Up Boots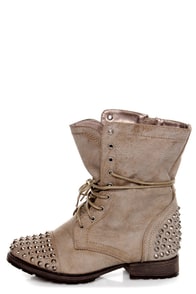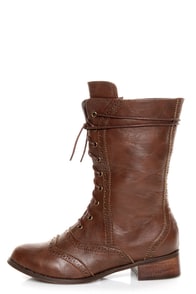 I love these. So easy to wear, and they can be paired with so much. Jeans for a casual look, leggings and a slouchy sweater for a cozy look, or a skirt for an unexpected look. The ones on the left are a favorite of mine, but I could see how the brown pair could be easily worked into my wardrobe. Best part about these-they're comfortable. No sacrificing the comfort of your feetsies just for the sake of fashion.
'Tis all for tonight, my loves. I've got some chilled Frotenac Gris (courtesy of Coyote Moon) in my glass, and am impatiently waiting for the AMA's to come on (and secretly hoping my son decides on an early bedtime tonight-not holding my breath). Only one day of classes this week-and then it's finally time for my husband to come home-so stoked!
Happy [early] Thanksgiving, and good luck on Friday if you're going to be braving the crowds! Me, I'll be shopping from the comfort of my home on Sunday morning. ;)
Happy Shoppings!