I love sparkle.
Nothing says "holiday season" like a little sparkle added to your wardrobe, and when it's done correctly (and in small amounts), it can add a festive touch to your look.
Check out some of my favorite looks and what to pair them with, in order to add a bit of dazzle to your holiday wardrobe!
Combo #1: Sequined dress + black opaque tights + black booties
Find any sequined dress (shift dress and dresses with sleeves will look the best), add opaque tights (not sheer, a thicker hose will look best), and add a pair of black booties or heels.
Combo #2: A sheer blouse + sequined skirt + statement necklace
I love the monochromatic look here! I pulled this look from a pin on my
Pinterest
page. I love the sheerness of the blouse (snag a black cami to wear underneath it), the sexiness of the skirt, and the added "wow" factor of the statement necklace and the heels. This is a really easy look to pull off and is great for those holiday parties (just be sure the skirt is long enough)!
Combo #3 A sequined top + black pants + a stack of bangles
These pants are hands-down my favorite dress pants. I wore them almost every single day when I was working and they were super comfy, and really cute! They're ankle length as well which is absolutely perfect for heels!
Combo #4 (for those a little more daring) sequined shorts + satin blouse + sky-high heels
sequined geo shorts- F21
|
colorful sequined shorts- F21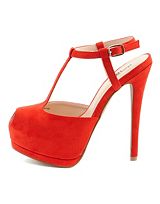 sheer split neckline top- F21
|
t-strap pump- Charlotte Russe
I love a sexy, strappy, sky-high heel with the shorts and blouse. Yes, it's definitely a risky move to make, but you will stand out in the crowd!
For those afraid to take the plunge into the land of sequins...
a few smaller pieces to get you started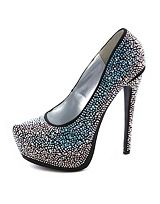 glittered diamond clutch- F21
|
diamond princess platform pump- Charlotte Russe
luxe linked earrings- F21
|
glittered belt- F21
These pieces are
easily
incorporated into your wardrobe! Once you're feeling a bit more comfortable, add in a sequined/sparkly top or skirt! Just remember to keep it to
one
bold piece to avoid looking like a walking glitter bomb!
Oh, and always remember...
Happy Sparkling!