Let me just say something.
I wore maxi dresses before they were cool.
You see, the problem us long-legged gals seem to encounter quite often is that shorter dresses are usually way too short (I'm talking Julia-Roberts-in-Pretty-Woman short), and the longer dresses hit our shins at the most awkward length and cut our legs in half.
Sound familiar, my long-stemmed friends?
So yes, I wore maxi dresses and skirts before they were all the rage. And I just needed everyone to know that before I move on.
In the past two months, I've bought a total of four five maxi dresses and one maxi skirt. This is all great, except for the fact that the average temperature around here lately has been about 35 degrees. With snow. So needless to say, my adorable dresses and skirts have been forced to stay neatly hung in my closet while I wait impatiently for the snow to melt and that bright thing in the sky to make its appearance again.
Six maxi pieces may seem like a lot to someone who has yet to experience the beauty that is a long dress or skirt, but I guarantee you, you will be hooked after you buy and wear your first piece. The best thing about these dresses is that they are so. flattering. Seriously, I believe that this is an awesome staple piece for every woman, and can be altered to complement your body type. Read on for my top five reasons to rock a maxi this spring and summer.
5. They're comfortable
Just go try one on (preferably in a lightweight cotton). It will cling to your body, but it won't be tight. It will feel light and breezy, and you'll be able to move in it. My maxis are probably the most comfortable pieces in my closet.
4. Shaving your legs is optional
Trust me, I know. I'm a mom, and there are days where shaving my legs just ain't gonna happen. Easy solution? Throwing on a maxi dress (or skirt and tee if the armpits didn't see a razor either).
3. Underwear is also optional
Maybe it's just me, but when it's 90 degrees outside and I feel like I'm breathing into a wet rag, the less clothing I have to wear, the better, and this includes undergarments. You may not be able to get away without wearing a bra, but you can usually get away without wearing any underwear-just make sure the dress/skirt isn't too sheer. When you feel that light breeze, you'll thank me (did I just take things too far? My apologies).
2. They're versatile
These pieces are great because they can easily be taken from day to night (and they're suuuuper easy to pack-perfect for vaycays), without too much fuss. Throw your hair up into a simple bun, change our your sandals, and add a little bling. You'd be surprised at how classy and elegant a simple (or patterned) maxi dress/skirt can look!
1. They're sexy
Seriously. My husband loooooves my newest maxi purchases. I bought a hot pink backless maxi and he gifted me with another for Valentine's Day-and let me tell you, he's just as obsessed as me. Probably for other reasons, but as long as he doesn't look at me with that, "You're wearing that?!" look before we head out, I'm ok with that.
If you aren't completely convinced just yet, that's ok. Take a look at these beauties, and they might just change your mind. Give them a try, I don't think you'll be disappointed.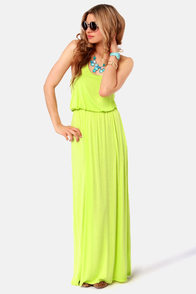 1.
Forever 21
2.
Apricot Lane Peoria
3.
GoJane
4.
Old Navy
5.
Piperlime
6.
JCP
7.
Kohl's
8.
Asos
9.
Boohoo
10.
Lulu's
I think that's plenty of options for different body types! Like I said earlier, there are tons of ways to alter these to your body type. Don't like your arms? Throw on a jean jacket over the dress. Want to accentuate your waist? Wrap a belt around the dress. Remember, clothing was made to be altered, so make good use of your tailor-if the dress is too long, don't be afraid to go in and ask for it to be hemmed up! Good luck, your wallet is going to need it!