It is
freezing
here today, and this glass of wine isn't helping to warm me up, so I thought some window shopping might help to remind me that Spring WILL eventually come, and it won't be Winter forever.
I also just gave myself a fresh mani (white and gold), so I'm feelin' pretty fab today, but I am dying for some warmer temps so I can rock some of these awesome frocks. Read on to see my picks for the week and let me know which spring trend you're excited to wear!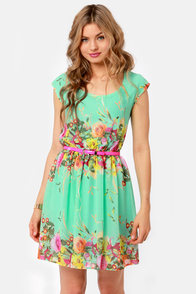 Mint is going to be huuuuuuuge this Spring, and that makes me happy because it's one of my favorite shades. It's so fresh and feminine, and goes great with another one of my favorite colors: coral. I love the floral print of this dress too, it's perfect for all those Springtime events like baby showers, wedding showers, brunches, and even Easter!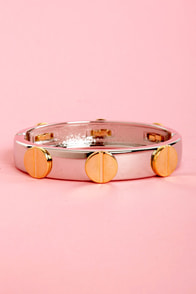 I love this bracelet because of its similarities between the Cartier screw bracelet. Granted, they don't look exactly alike, but I'll take $15 over $5,575 any day! This bangle will look great stacked with a watch and your other favorite bracelets, or worn alone.
LC by Lauren Conrad Floral Shorts
I love the fresh approach of these shorts. They're a good length too, it seems that all the patterned shorts I seem to find are either way too short or way too matronly. These would look great with a gauzy shirt or a loose fitting tee for a more relaxed feel.
Waffle Knit Striped Sweater
I looooove the color of this lightweight sweater. It's the perfect piece to take you from Winter to Spring, and the color is enough to get you through those dreary, rainy, early Spring days. I would love this with white denim, or even mint green jeans for an extra preppy look!
D'Orsay Pointed Toe Flats
I'm a big fan of the D'Orsay style of heels, and was super stoked to see that Forever 21 had a flat option. The buttery yellow is the perfect neutral to pair with all your Springtime brights, and they can be worn with anything from jeans to skirts to sundresses.
That's all for tonight. I'm still cold and now I'm just missing warmer temps even more.
Enjoy your long weekend (if you're lucky enough to have one)!